Meeting the Hon'ble Speaker of Bangladesh National Parliament
25 April 2018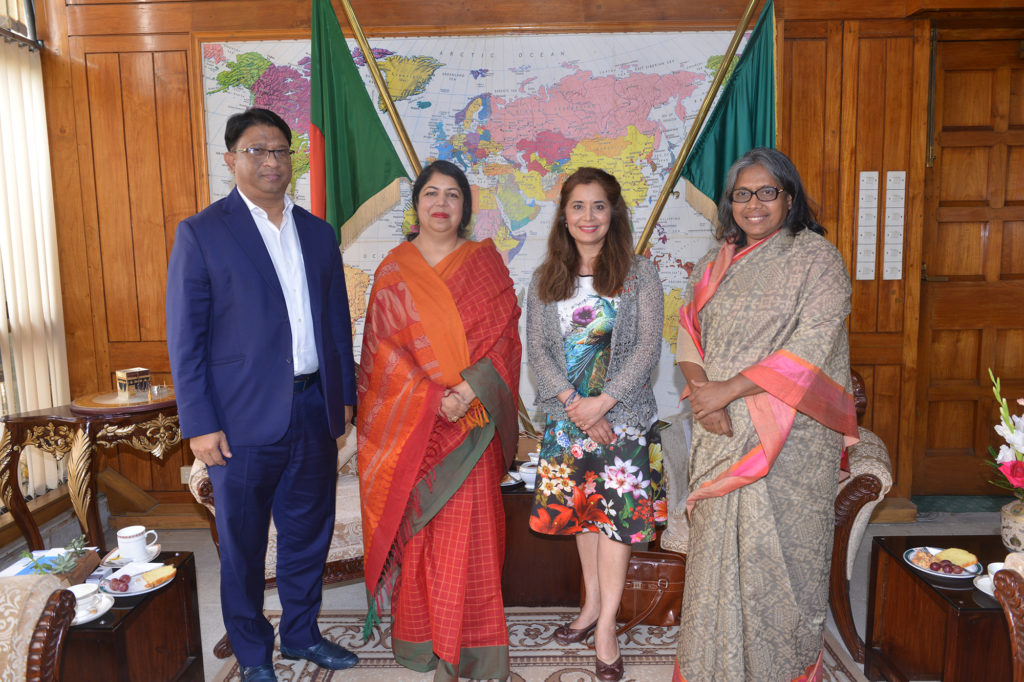 During her visit to Dhaka, Malini had the honour of meeting the Hon'ble Dr Shirin Sharmin Chaudhury, Speaker of the Bangladesh Parliament, at her impressive offices in the Bangladesh National Parliament House (Jatyo Sanshad Bhaban). Dr Chowdhary is a formidable and experienced politician with considerable international experience. Most recently she served as Chair of the Commonwealth Parliamentary Association and was formerly minister of state for women and children's affairs. She also has a doctorate in constitutional law and human rights.
The meeting took place in the context of Malini's role as chief executive of the global parliamentary network, GLOBE International, and was organised by senior GLOBE member, Iqbalur Rahim MP, also a Whip in the Bangladesh Parliament. Another parliamentary Whip, Mahabub Ara Begum Gini MP, who also serves as Chairman of the Bangladesh Women Sports Federation, was also in attendance.
At the meeting Malini had an opportunity to present the Teach A Girl to Swim campaign to the Speaker and MPs, and discuss the relevance of connecting the climate change, disaster risk management (DRM) and gender equality agendas with national efforts on drowning prevention. Bangladesh is uniquely vulnerable in all respects with drowning the leading cause of death amongst children aged 1-17.
As Malini explained with reference to partner CIPRB's programme and research work, Bangladesh is also uniquely positioned to lead on a positive agenda to address climate, DRM, drowning risk and women & girl's empowerment. She informed the Speaker and MPs of her visit to Cox's Bazar to observe CIPRB & RNLI's SeaSafe and SwimSafe drowning prevention projects in person. Government support for these initiatives could help scale them up to a national level and serve as a model for integrated drowning prevention strategies internationally.
The leadership potential of such initiatives, and the value of the TAGS campaign in connecting these issues, was welcomed and Malini was invited to keep the Speaker and members informed of developments. Their connection with delivering on the UN's Sustainable Development Goals was also discussed.
The lengthy and fruitful meeting resulted in a commitment to report on the TAGS initiative in Bangladesh, and bring policy and other recommendations directly to the attention of parliamentary and government leadership by the TAGS team and partners.