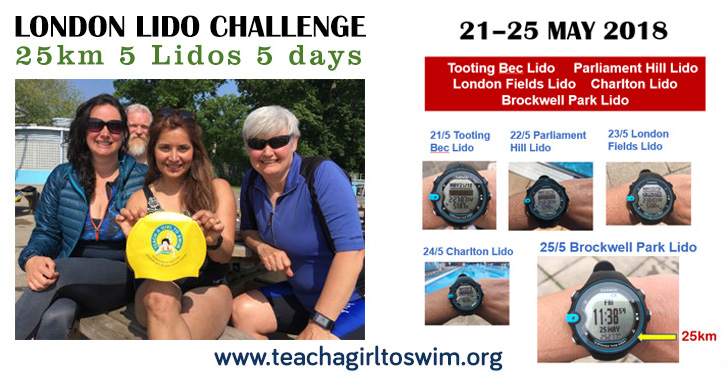 In the week of Monday 21 May 2018, Malini swam 25km over 5 days in her 5 favourite Lidos (open air swimming pools) in London as part of the TEACH A GIRL TO SWIM campaign. Lidos are a uniquely British institution and mark a golden era in the country's fascination with outdoor swimming. The majority of lidos were built in the interwar years of the 1930s as recreational facilities by local councils. Of the 169 lidos built, not all have survived.
Lidos – London's blue assets
It is a little-known fact that London has a unique abundance of extraordinary lidos. Probably more than any other city in the world. London's Lidos deserve greater recognition and respect as important aquatic and architectural assets of this great world city. They should be seen as a core part of London's 'blue assets' to complement the 'green' reputation the city enjoys due to its abundance of green space and ambition to be the world's first National Park City.
Malini devised the London Lido Challenge to celebrate the history of these lidos and their continuing role in their communities. Frequently threatened by demolition and development, their staying power is due to the tenacity of generations of local swimmers who have campaigned to ensure their existence. Her Lido swims sought to attract support for the TAGS campaign from the large community of swimming enthusiasts in London and are being accompanied by outreach and awareness-raising with schools, community organisations, swim associations, policymakers, parliamentarians and others.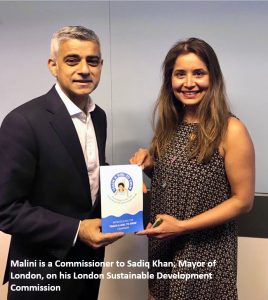 Diaspora communities a key focus
One in three Londoners is foreign born. This diversity is not always apparent in London's pools and waters. A key focus of Malini's outreach is to engage with London's large diaspora communities and empower girls and women to swim with confidence. In particular (but not limited to), those from South Asia, such as herself who can often lack role models and face cultural barriers to taking up swimming and develop body confidence.
As an Indian woman and an immigrant, Malini learnt to swim aged 9 thanks to mandatory swimming lessons in her primary school in Potters Bar, England. She has not looked back since and is swimming more than ever now in her sixth decade. Her daughters have similarly benefitted from school swimming lessons in London and all the family are keen swimmers.
Teach swim & water safety in schools everywhere
Compulsory swimming lessons and water safety through the national curricula in all countries is a core policy ask of the TAGS campaign, building important life skills and contributing to general health and well-being. In an age of climate change and increased flooding risk, swim & water safety can also be regarded as essential survival skills for many communities around the world.
The TAGS Campaign is keen to promote this message and Malini and our Ambassadors can be contacted for talks in your school/ organisation/ institution: contact@teachagirltoswim.org
Malini swam 25km (5km each day) in five days in the following five London Lidos in May.
Photos from her swim are available on the TAGS Photo Gallery:
Acknowledgements: Grateful thanks to Cecilia and South London Swimming Club for their support, and to Jenny Landreth for her book, Swimming London, which both informs and enthuses (and from which we have borrowed liberally here). Recommended reading for anyone passionate about swimming and lidos.