Susie Rodgers MBE (Britain)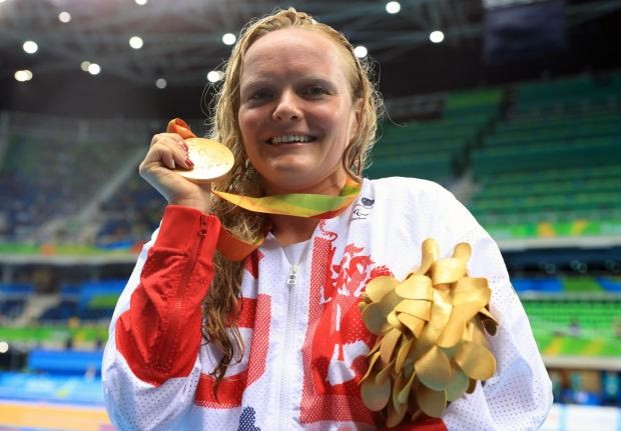 Susie Rodgers MBE was a professional Paralympic swimmer for six years before her retirement in 2017 and during that time became Paralympic champion in the 50m Butterfly at the Rio 2016 Paralympic Games. She also won two bronze medals in Rio and is a triple bronze medallist from the London 2012 Games in the 50m, 100m and 400m freestyle events. During her competitive career she won Gold and Silver medals at both World and European level, setting multiple European and British records. Susie started training seriously as a swimmer in 2008; watching the Beijing Olympics and Paralympics inspired her to get back to competing. She initially started swimming as a form of exercise that she could do given her disability, but also through a love of the oceans and marine life as a young child living and growing up in Egypt. She is currently swimming and exploring the world of open water competitions and has now firmly moved her love of swimming into the outdoors! Susie is patron of the London Disability Swimming Club.
Susie has also had an extensive professional career after graduating with a First Class honours degree in Modern Languages, specialising in French, German and Spanish. She has worked at the Foreign and Commonwealth Office and more recently for nine years as a project manager at the British Council. During her time at the Council, which coincided with her training and career as an athlete, Susie managed numerous educational and youth cultural exchange projects across the UK, China, Latin America and Europe. She currently works on public affairs and international relations at the British Paralympic Association. Susie sits on several boards, including the British Athletes Commission (the UK's elite athlete welfare and safeguarding organisation) where she is the Chair of the Athlete Advisory Group and Spirit of 2012 London 2012 legacy charity.
Susie continues to work externally on diversity and inclusion, speaking on this subject on panels in the UK and abroad and is patron and Ambassador of several UK based charities, companies and initiatives. She was awarded an MBE in 2017 for services to swimming in the Queen's New Years' Honours list and was recently selected in 2018 as a Young Global Leader by the World Economic Forum.