Drowning Dialogue in UK Parliament
18 October 2018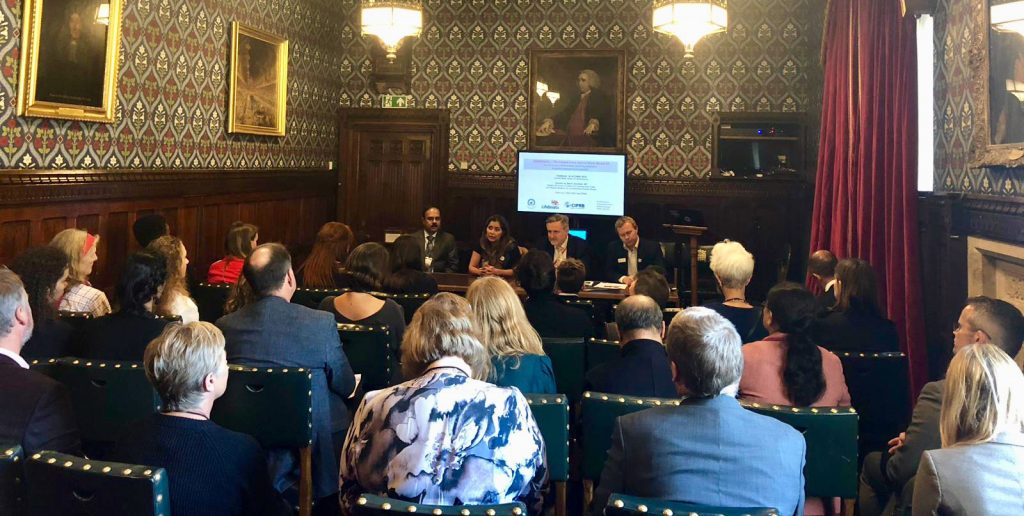 Every other minute a child drowns somewhere in the world. Yet drowning is preventable and can be ended.
It was a full house in Westminster Hall's Jubilee Room when the TAGS campaign organised an event at the UK parliament to discuss the silent epidemic of drowning deaths. Entitled, 'DROWNING – The global crisis you've never heard of,' the event sought to shine a spotlight on this little-known public health crisis and elevate political attention to it.
Believed to be a first-of-a-kind parliamentary discussion, the event brought together speakers from the TAGS campaign, the UK's Royal National Lifeboat Institution (RNLI) and the International Drowning Research Centre at the Centre for Injury Prevention and Research, Bangladesh (CIPRB) in Bangladesh.
The invited audience was a cross-section of academics, practitioners, international organisations, NGOs, journalists and activists working in the fields of drowning prevention, climate change & sustainability, foreign relations, gender, sports & swimming, etc. Importantly, a number of secondary school students were also present and engaged.
Drowning in global perspective
Hosted by prominent British Labour party politician, Barry Gardiner MP, Shadow Secretary of State for International Trade and Shadow Minister for International Climate Change, the event placed the issue of drowning in the broader global context of climate change, disaster risk reduction (DRR), and gender inequality.
Highlighting the shocking fact that drowning is the 3rd leading killer of children worldwide after malnutrition and diarrhoea – and the No. 1 killer of children in countries such as China, Bangladesh and Thailand – the event explored why these facts are not better known, how to raise public awareness and mobilise political action for change.
In his opening address, Barry Gardiner MP pointed to the disproportionate gender burden of fatalities in the context of natural disasters. Women and children are 14 times more likely to die in disasters than men.  Climate change is causing more intense and frequent extreme weather events, especially floods, worldwide. Floods affect more people than any other disaster, and drowning is the leading cause of death in floods.
Action to end drowning
In her presentation, TAGS founder Malini Mehra, developed the theme of why gender has to underpin integrated strategies to address the drowning crisis, and explained how the
issue connects with global commitments undertaken since 2015 on climate change, disaster risk reduction, the UN's Sustainable Development Goals and gender empowerment. She detailed the TAGS campaigns objectives with specific reference to policy integration; teaching swim & water safety in schools; and improved gender analysis, data collection, research and support.
Darren Williams, International Programmes Manager at RNLI, explained the lifesaving work of RNLI and the global scenario of drowning in both High-Income Countries (HIC), as well as Low & Middle Income Countries (LMIC). Working towards a world where nobody drowns, the RNLI provides technical expertise and assists with local capacity development through collaborative efforts. It was bringing essential lifesaving skills development to some of the most vulnerable parts of the world.  One illustration was the SeaSafe programme in Bangladesh, which provides lifeguard training and provision to tourist beaches in Cox's Bazar.
Best practice from Bangladesh
Every day 50 people drown in Bangladesh, where it is the leading killer of children aged 1-14. In his presentation, Dr Aminur Rahman, a world-leading authority on drowning prevention and Director, International Drowning Research Centre at CIPRB Bangladesh, detailed the challenges of drowning prevention in Bangladesh. Referring to the BHASA programme supported by RNLI, in one of the most drowning-affected districts in Bangladesh, he pointed to the success of pioneering interventions such as creche provision and swimming lessons in reducing drowning mortality in Bangladesh
The Anchal creche programme had seen an 80% reduction in child deaths, and the SwimSafe swim teaching programme a 90% reduction in mortality. At only $10 per child, the SwimSafe programme was arguably one of the most cost-effective ways of battling child drowning deaths.
Joining hands to raise awareness & end drowning
The presentations were followed by a lengthy and animated discussion, chaired by Mr Gardiner, covering a range of issues from the need for more robust, disaggregated and comprehensive drowning data; to the value of CPR; the need to engage diaspora communities; and the connections with the population, parenting, women's rights and climate risk agendas. The exchange also saw the sharing of powerful personal experiences of near-drownings, underscoring the need for greater public awareness about this silent epidemic and practical ways to address it.
The event concluded with a call to action for further dialogue and collaborative action to build more inclusive and integrated agendas. Delegates continued their discussions, exchanged business cards and networked at the tea reception that followed.
MORE PHOTOS FROM THE EVENT CAN BE FOUND HERE.
The TAGS campaign wishes to thank Barry Gardiner MP, Tom Evans, and our partners CIPRB and RNLI for their support in making this parliamentary dialogue to end drowning a great success. The first of many such in parliaments and decision-making fora across the world it is hoped.