Artist Anita Klein on WATER
14 November 2020
Anita Klein is a much loved and prolific British artist. Originally from Australia, Anita has been based in London for four decades and become one of the country's leading established artists.
In this interview with Malini Mehra, founder of the Teach A Girl To Swim (TAGS) campaign, filmed at the Eames Fine Art Gallery in south London, Anita Klein speaks about WATER, her latest collection of paintings and prints.
Largely produced in London during the COVID-19 lockdown, when Anita was unable to travel as usual to her Italian art studio, the WATER exhibition illustrates the importance of art and swimming in coping with the crisis. A lifelong swimmer, Anita reflects on the connections between water, health, empowerment and climate action.
The film was released on Saturday 14 November at the start of London Climate Action Week (14-20 November 2020) as a bridge from the closure of Julie's Bicycle's three-week Seasons for Ex-change creative climate arts festival on Friday 13 November, and as part of LCAW 2020's Whole of Society Climate Mobilisation theme. The film is available for view on the TAGS website below and will be available on the London Climate Action Week (LCAW) YouTube channel.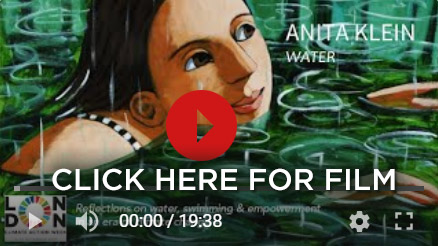 Anita's paintings and original prints are available to see and purchase from the Eames Fine Art website and from their gallery and studio. Visit Here to view all of Anita's available works.