10km TAGS Campaign Swim in Dhaka, Bangladesh
26 April 2018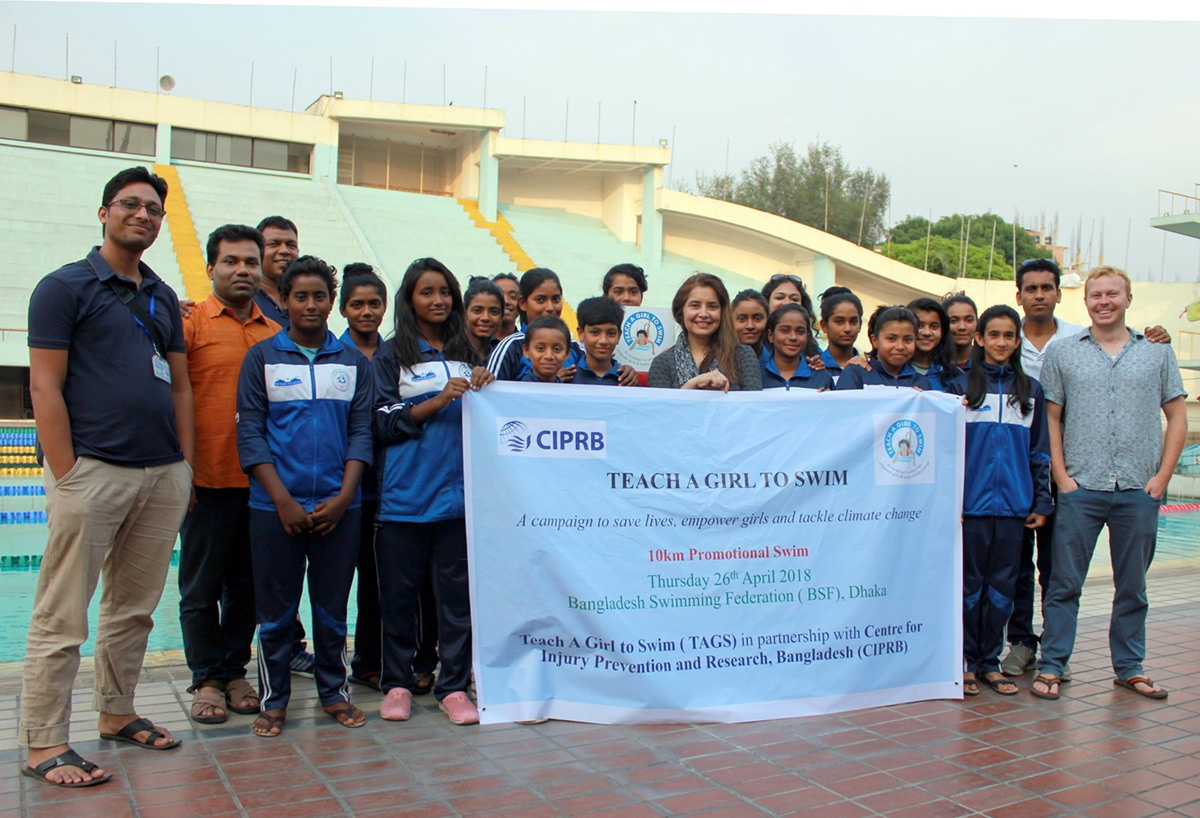 On 26 April 2018, TAGS founder Malini Mehra swam a 10km swim to promote the campaign at the Sayad Nazrul Islam National Swimming Complex in Dhaka. This is Bangladesh's largest swimming complex and boasts the only Olympic-size 50m pool open to the public. Hosted by the Bangladesh Swimming Federation (BSF), the 10km swim was organised by TAGS partner, CIPRB (Centre for Injury Prevention & Research Bangladesh) and monitored by two BSF coaches.
Malini was joined on the 10km swim by Darren Williams from the RNLI in the UK. Both swimmers had the massive open-air pool to themselves – with water temperature a tropical 26 degrees C – and benefitted from their own dedicated swim lanes.
Darren leads RNLI's international work in Bangladesh and oversees the RNLI's SwimSafe, SeaSafe and Bhasha drowning prevention, lifeguarding and community education programmes with local partner, CIPRB. Originally from Wales, Darren was a competitive swimmer for his nation and easily completed the 200 lengths of the 50m pool, although the open sun provided very different local climate conditions to Swansea!
Bangladesh's talented girl swimmers
After completing the 10km swim, Malini had an opportunity to speak with a warm and engaging group of girl swimmers. Ranging in age from 10 to 15, the girls come from modest backgrounds and are all part of the BSF's Youth Talent Programme and training for local competitions. They compete in distances from 50m to 200m and train on a daily basis.
When asked about their dreams, they all wished to do well at the national level and could name a number of Bangladeshi swimmers who had done well at the regional level. None thought they could realistically earn a living through their sport though, given the low level of sponsorship and status compared to more popular sports such as Cricket and Football in Bangladesh.
When asked where they wished to work when older, they all said they hoped to work either in the Navy, Air Force or Army. These are the traditional recruiters for promising sportswomen and men from their background. Government jobs were mentioned by one or two, but the Defence services were the overwhelming employers of choice for these young girls.
All understood the importance of swimming for girls and they took pride in their skill and strength. They hoped to be able to continue as adults but admitted girls faced difficulties due to cultural attitudes. The state of their facilities also sparked animated discussion.
Investment to produce champions and role models
Although a large and well-used complex, it is apparent the swimming pool has not benefited from investment for a long time. The girls changing rooms are very basic – running water in sinks and toilets, but the broken latches on doors, rusted hinges and chipped paint on walls, scream out for a makeover.
Finding a few corporate sponsors and champions in government would be a great start. The complex is clearly overdue for a renovation. As nations such as China have shown, creating champions takes strategic focus, commitment and investment – in human capital as much as in facilities.
There is no reason why Bangladesh should not excel in swimming. The country is blessed with natural ponds, lakes and rivers. But most cannot swim. Instead they are losing their lives. With the drowning epidemic, water has become a graveyard for Bangladesh's children.
Win-wins possible…
The good news is this can be turned around. NGOs such as CIPRB are leading the way on drowning prevention. Bodies such as the Bangladesh Swimming Federation show there is commitment to the sport from enthusiasts and swim professionals. If both ends can be joined up and connected with the country's commitment to addressing climate change, gender empowerment and managing risk better, there are win-wins all round.
This is the message of the TAGS campaign. The TAGS Bangladesh visit has kicked off the conversation. More is now planned to connect and support stakeholders in developing shared understanding and common strategies on these inter-connected agendas.
Acknowledgement: The TAGS team wishes to thank the Bangladesh Swimming Federation for their support; and to Dr Aminur Rahman, Director, International Drowning Research Centre – Bangladesh, CIPRB; and Dr. Md. Jahangir Hossain, Associate Director, CIPRB, who organised the swim and made everything possible.